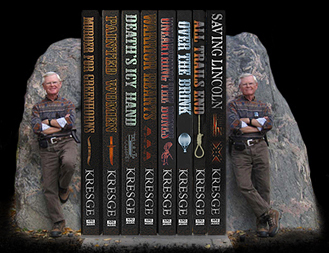 OVER THE BRINK
The thrilling sixth chapter in the Warbonnet Historical-Mystery Series by Robert Kresge
---
Crime and Romance in Buffalo, NY 1875
A year after the events of Unearthing the Bones, Kate Shaw returns to her home town to see her sister's newborn baby and escape the stifling attentions of WArbonnet friends. When Kate doesn't answer their letters or telegrams, the town council sends MArshal Monday Malone on a surprise journey east to assess her intention to return.
Against the splendor of Niagara Falls and the bustle of America's fifth largest city, the pair tries to sort clues in order to find a killer with a specialized skill set.... before he claims another victim.
~~~~~~~~~
Follow the trail to the Warbonnet Mysteries here.